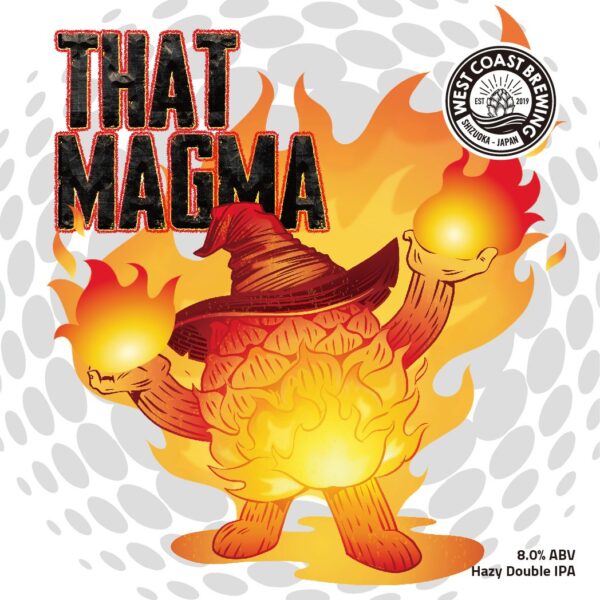 That Magma Crashed FV2
Hazy Double IPA / 8.0% ABV
Magma returns
Magmaとは、アルケミストに潜む闇の意思である。アンダーグラウンドで囁かれているのは、ネメシスの"ある能力"が、実はアルケミストをコントロールしているという噂だ。。。Hop Dudeの歴史家の間では周知の事実だが、現在のアルケミストは、ハイホップ評議会の満場一致で選ばれたわけではない。
確かに華麗なホップの調合で、幾多の名作を生み出してきたのは事実だが、才能と知恵を持ちながらも、時には何かの力に支配されているような集中力のなさも感じられるからだ。これが世界を破滅に導くのではないか、そう評議会で考えられていた。そして今、恐れていたものが現実となってしまう。
インスタライブで大暴れのマグマが復活!調子に乗り過ぎたマグマのイケナイお遊びにDude界は大騒ぎ。アルケミストの奮闘により、間一髪でどうにか完成。あれ、でも、これ、アルケミストじゃない。。。
…って、やっぱりマグマかい!しっかりと感じられるホップの香りとパイナップルのフレーバーにシルキーな口当たり。これは本当にDIPAなのか。
ふつふつと込み上げるMagmaを感じてください。
もっといじってー
Magma returns.
A well known fact amongst Hop Dude historians, The High Hop Council was not unanimous in their selection of the current Full Hop Alchemist. While a Prodigy in his own right, with talent and wisdom well beyond his years, at times the Alchemist uncannily struggled to focus, almost as if he was being controlled by some outside force. This was indeed a disenchanting quality that some on the High Council believed might eventually be his undoing. Now, even after countless feats of whimsical construction and brilliant hop concoctions—their fears have been realized.
That Magma is the fiery alter ego of our Full Hop Alchemist. Whispers in the dark speak of the Nemesis or one of his many minions having the ability to control the Alchemist and his actions. Hop Dudes claim to have seen him turn ablaze but for a moment—and in that moment lose all control. (This apparently happened after a late night and way too many TDHSSRs, but we will never know...)
Hazy Doubles that aren't cooked the right way don't usually turn out this good. After coming to his senses the Alchemist brought this one back to the promised land - an 8.0% ABV hazy hit of smooth pineapple and juicy fruit, loaded with lupilin for banging aromatics and just in time for summer shenanigans. Try as he might, the Nemesis is no match for the Alchemist's prowess.