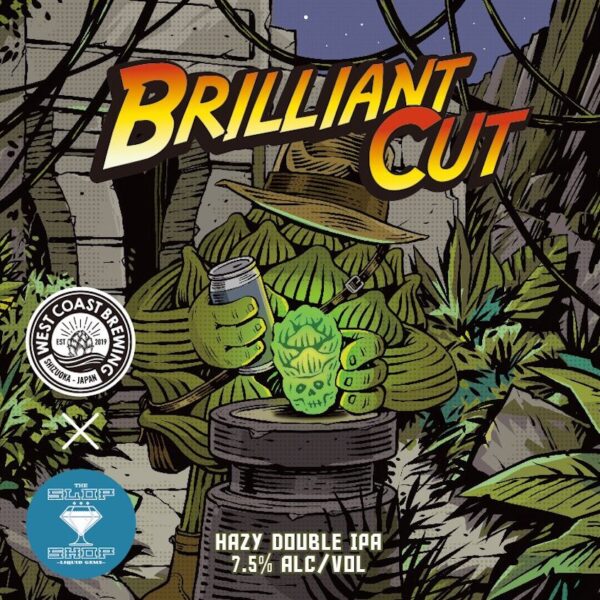 Brilliant Cut
Hazy Double IPA / 7.5% ABV
w/Bruce, Strata & Cashmere
The Slop Shop 2nd Anniversary.
東京・目黒『The Slop Shop』2周年のお祝いに、WCBが特別醸造したHazy!!!
ここは誰も知らない用宗の奥深く、草木生い茂る神秘の遺跡。今や楽園にはほど遠く、一部のDudeのみで噂されているウソみたいなホントの話。。。
オレンジの皮を剥いた瞬間みたいにフレッシュな香しさ(かぐわしさ)。温度が上がるにつれ感じる甘く瑞々しい桃感は、シルキーで柔らかい口当たりにぴったり。柑橘の内果皮を連想させるほろ苦さのあと、スッと抜けるような爽やかさに、アルコールの温かみを纏ってフィニッシュ。
考古学者のHop Dudeは、幾多のトラップを潜り抜け、遂に伝説のグリーン・スカルとご対面。ここに最終難関があるとも知らずに…。果たして彼は、幻のクリスタルに記されるLiquid Gemsのレシピを、無事に持ち帰る事はできるのだろうか!?
We're not quite ready to let the Smithsonian have this one.
Hop Dude archaeologists and historians have braved countless journeys deep into the heart of New Zealand in search of the priceless Greenstone with no success - until now. Brilliant Cut is our beer to commemorate the opening of The Slop Shop Kichijoji, a Hazy Double IPA lupulin-laden with an officially absurd amount of NZ treasures, bursting with tropical fruit sensory fireworks and (shhh) masked alcohol gems. Dangerously crushable and seriously drinkable. Adventurers beware!