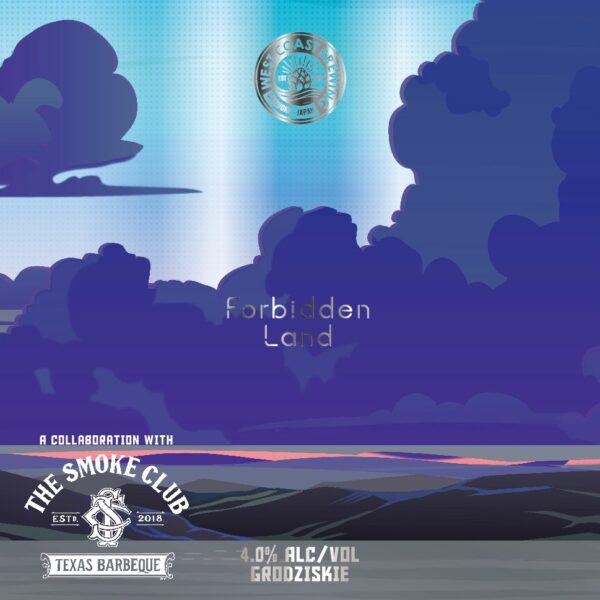 Forbidden Land
Grodziskie / 4.0% ABV
WCB × THE SMOKE CLUB Collaboration!
静岡県浜松市唯一のTexas Barbeque Shopであり、WCB直営店「OASIS」内のHOT UPとしてタッグを組む『THE SMOKE CLUB』とのコラボビールが復活!
燻製のプロフェッショナルであるTSCの素晴らしい技術によって、スモークされた麦芽を使用して完成した、スモークド・ラガー。微かな燻製の香りを纏い、レモングラスを連想させる、ほのかに優しく漂うハーブ感。ドライでライトボディー、苦みは少なく、小麦由来の酸味が爽やかな余韻となり後口にふんわりと広がっていく。
ここは、ビール好きの誰しもが憧れる禁断の地。
"空高く伸びたホップ"
"一面を覆い尽くすほど生い茂る大麦"
"遠くまで透き通った美しい水源"
天然酵母がのびのびと暮らし、その奥には泉のように湧き出るビールがあるとか、無いとか。
辿り着いたあなたは幸か不幸か。一口飲んだが最後、もう後には引き返せない。
We weren't supposed to go there. But we did. It was SO enticing. Mom tells you "don't do it" and next thing you know? Yeah, it was impulsive like that. We also enlisted our good friends at The Smoke Club in Hamamatsu to help out with the grains, because this beer HAD to go with BBQ. The result is Forbidden Land - a 4.0% Grodziskie and our first ever concoction to use smoked malt. Our Hop Heroes were looking for a crisp lager with a touch of that smoky goodness, with the trademark WCB touch. For summers and poolside BBQs, campfire marshmallow sessions and late night cabin chats, this be the new go to of choice.