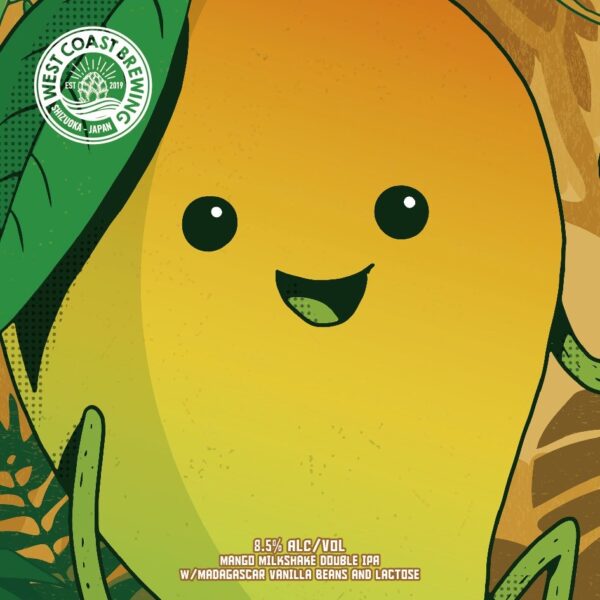 Mango Fruit Monster
Mango Milkshake Double IPA / 8.5% ABV
w/Madagascar Vanilla Beans & Lactose. Dry Hopped with Idaho7 & Mosaic CRYO
WCB 3rd Anniversary Edition!
みんな、久しぶりっ👋🏼衝撃の出現から時を経て、まさかの早2年。
(前回リリースはWCB1周年の時でした)
そして今年。2022年夏……。WCBファンからの燃え盛るような熱望を知ったか否や、3周年を祝して、ふらりと気ままに用宗へ降り立った傍若無人な"マンゴー"ちゃん。
皆さまのご期待通り、性懲りも無く大量のマンゴー(300kgも)を引っ提げたフルーツモンスターが2年ぶりに戻ってきたよ!圧倒的なマンゴーの甘さに見え隠れする苦みのギャップに、どうぞ酔いしれてくださいな。
バニラ!マンゴー!アイスクリーム?!本物のミルクシェイクだと勘違いするほどのアロマ&フレーバーと、甘い罠にまんまとハマってしまうフルボディ感。後口には柑橘の皮のようなほろ苦さが残り、ハッ…と目を覚まし現実へ引き戻されていく。
甘くて苦い、苦くて甘い。Hop Dude達をドギマギさせる、魅惑のモンスター。もう会えないと思ってた……?でも大丈夫、またいつかきっと会えるから……。
Our Hop Dude wizards locked the library doors 'Conclave style' in search of ancient scrolls to aid them in their quest for #moremango. Previous iterations weren't enough. More ABV, more vanilla, more hop bitterness!! or it just wasn't going to cut it. After days of deliberations our Heroes emerged with a recipe fit for our 3rd anniversary - a bigger, bolder, and decidedly more powerful Fruit Monster reanimated. Mango brings the goods clocking in at 8.5%, with a massive vanilla upgrade in addition to Idaho 7 and Mosaic CRYO for dankness and bitterness hits and "real" Double IPA feels.