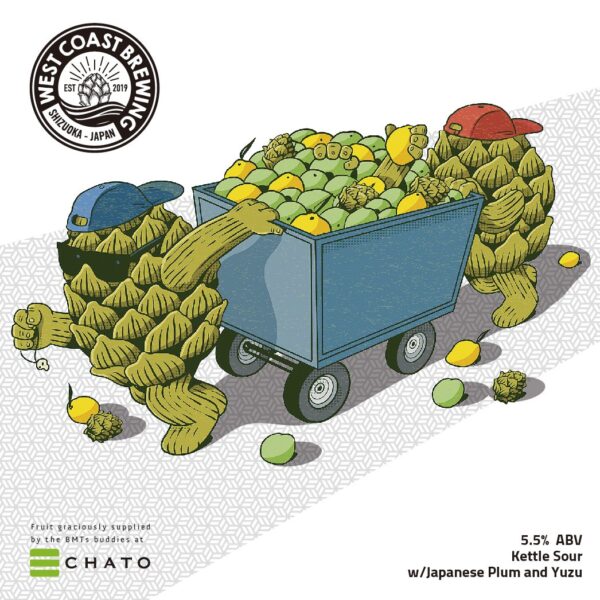 Fruit Train
Kettle Sour / 5.5% ABV
w/ Japanese Plum and Yuzu
人生は一回。夏は一瞬。
夏の思い出は一期一会。
後悔しない夏の過ごし方のススメ。
BMTは水面下で交渉を進め、今回は静岡のCHATOさんと極秘裏にタッグを組み、オーガニックの梅と柚子を手に入れる。
リフレッシングなケトルサワーには、和果実が織りなすフルーティで程よい酸味と、夏の風情をトッピング。暑い日は、キュッと口をすぼめるような酸っぱさが丁度いいよね。
幻のフルーツトレインは、真夏の蜃気楼を超えて今日も進み続ける。
"本日もフルーツトレインをご利用いただきありがとうございます。次は用宗〜、もちもち用宗〜っ。(5.5% ABVと)危なくないので、思う存分飲みすぎちゃってください!"
たまにはレールを外れて、気の向くままに。夏を遊び尽くすためなら、乗り遅れちゃってもいいんじゃない?
The boys are back at it again. While everyone was inside aircon bathing, the BMTs top secret tandem of procurement professionals (aka our good friends at Chato) was busy securing the goods. Just in time for summer vacation, the Alchemist loaded up his cauldrons with baskets of organic certified Japanese plums and Yuzu zest for humidity-smashing thirst-quenching bliss. Tangy and tart with just the right hit of hop bitterness on the back end, a ride on the fruit train never felt so good.