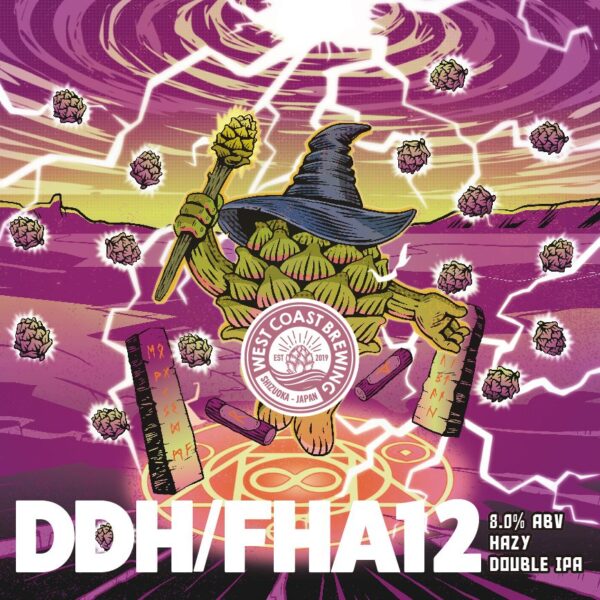 Full Hop Alchemist v12
Hazy Double IPA / 8.0% ABV
w/Ekuanot, Enigma, Strata, Idaho7 & Simcoe
ピカッ⚡️一閃の眩い光が無意識に脳内に快感をもたらす。
禁断の酵母と、エクアノット・エニグマ・ストラータ・アイダホ7・シムコーの化学変化により至極のビールが完成。とろみ感のある舌触りに、洋梨のような熟した甘み。…にうっとりしていられるのは、ほんの数秒な訳で。気づけば、ホップの濃厚な香りと苦みのギャップに夢中。
ダークサイドに対抗する為、秘密裏に進められていた禁断の酵母の研究。新しい試みに勝機を見出せるか。アルケミストは、変わらないために変わり続ける。
December is upon us. The Darkness and cold of winter held back only by the hope of bold new discoveries to thwart the Nemesis' relentless advances. 2021 looms large (and can't get here soon enough) as lines are drawn and sides are taken in anticipation of an epic struggle unlike any other.
Our Full Hop Alchemist, aided by his newfound comrades in the underworld, procured new elements of conversion for his next concoction. The Nemesis would be planning to counter previous versions - he certainly wouldn't be ready for what is about to drop.
Get excited Hop Dudes. V12 is WCBs first Hazy Double IPA to use London Ale 3 yeast, completely altering the character and complexity of the Alchemist's favorite recipe (and totally breaking every High Hop Council rule in the book). Super smooth, juicy and insanely drinkable, v12 is a massive tropical fruit bonanza unlike anything our Hop Heroes have seen before. The Trial gave birth to a movement - Hop Dude's can't wait to see where these new goodies will take the Alchemist next.