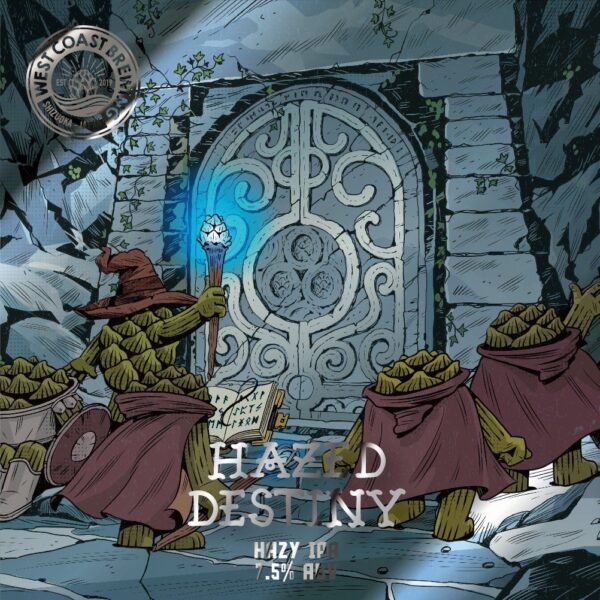 Hazed Destiny
Hazy IPA / 7.5% ABV
w/Nectaron & Strata
もう、後戻りはできない。
門番を悪戦苦闘の末に撃破し、開かれた洞窟へと歩み始めた勇者たち。中へ進むにつれ、誰かにずっと見られているような、張り詰めた空気が彼らの不安を煽り続けていた。
闇黒な引力にひかれ、ピタリと足が止まる。目前には、おどろおどろしい3つの分かれ道。その横には、この世のすべての悪を封じ込めたようにどっしりと、かたく閉ざされた石扉が、びくともせずに鎮座していた。
この扉を突破するには、きっと何かが足りないのだろう。しかし目的の地がこの先にある事実は、このとき誰もが確信していた。今、この状況下で彼らに残された選択肢は、あの"3つの分かれ道"。疲労と落胆で座り込むHop Dudeを鼓舞しながら意を決し、1つ目の道へと急いだ。
淡く黄色い優しい色合いのNew Hazy。パイナップルやライチ、ピーチを感じるトロピカルアロマ。フレーバーは、よりピーチ増し、ほのかにレモンの印象。シルキーな口当たりのあと、甘い後口と共に心地よい苦みが訪れる。
Toppling the Gatekeeper, our Heroes have penetrated the outer defenses of the Nemesis' fortress - the vaunted Dark Lab awaits.
Long dark corridors continue for several minutes... that seem like an eternity. At once there is a faint light and an opening to a larger room, with a massive door and to the sides of the room what look to be three passages. Our Heroes know their destiny--the destiny of all Hop Dudes--awaits beyond this ancient door. A Hop Dude shield slams against the door, nearly breaking the shield... there would be no strength to overcome the magics at work here. Examining the door more closely, amongst the exquisite engravings and decor our Heroes find three distinctly unique yet similarly shaped outcroppings near it's center. Could this be related to the three passages? With no other clues in sight, our Hop Heroes set off into the first side passage, the darkness seemingly swallowing them whole as they step closer toward their fate.
Hazed Destiny is the 2nd installment in our Dark Lab Dungeon series - a 7.5% Hazy IPA loaded with NZ Hops Nectaron and a mix of Crosby/Indie Strata, your Destiny is Hazy with aromas of tropical pineapple & peach, and similar flavor hits with more pear/lemon notes and a light burn/solid bitterness on the finish (let's call it a sting from that shield hit) that may mellow out on the way to the 2nd boss. Gatekeeper didn't drop any upgrades? Fingers crossed the next boss delivers.