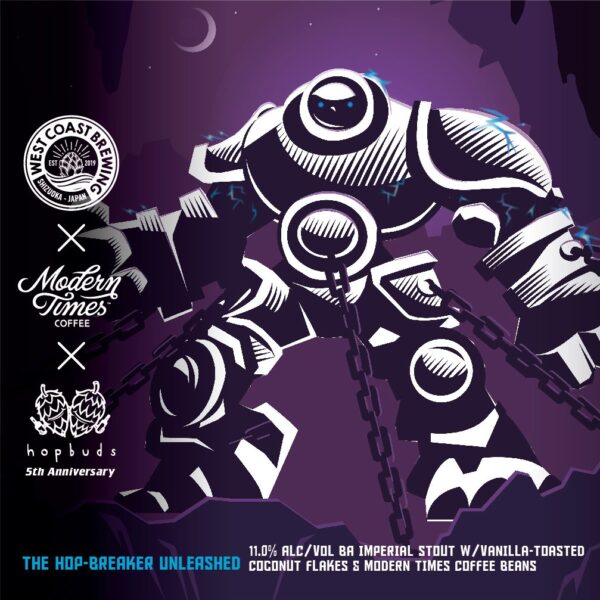 The Hop - Breaker Unleashed
BA Imperial Stout / 11.0% ABV
w/Vanilla Toasted Coconut, Vanilla Beans & Modern Times Idea Machine
『Hopbuds』 5th Year Anniversary Edition.
一際暗い闇の中、 ARCH NEMESISはさらに奥深くへと潜っていった。光と闇の争いに終止符を打つべく、かつて世界を暗黒の炎に包んだ圧倒的破壊の力を現世に甦らせるため、封印されし闇を目指していた。ようやく辿りついた先で、彼は禁断のTHE BLACK BOOKを掲げ、その本に記された言葉を発した。
「力が欲しい!Return!(解き放たれよ!)」
TBBは闇の炎に包まれ燃え尽き、炎が消えると共に完全な"無MU"に包まれた。一瞬の静寂の後、轟音と共に漆黒の鎧を纏った古の巨人が再び目を覚ました。
THE HOP BREAKER -UNLEASHED-
これは全ての終わりの始まり。全てをやり遂げた後、ARCH NEMESISとなった彼は虚な眼差しで佇んでいた。そう、かつてあの時TBBを持ち出した時からこうなることはわかっていたのだ。
バニラとココナッツの濃厚な香りと、コーヒーの風味が口の中を支配。シルキーな口当たりと、BAによって育まれたウイスキーの芳醇な香りで最高の余韻。
What was once forgotten, is remembered. What was once closed, is opened. And what was once banished, returns to exact its vengenance.
Once sealed into the void at the end of the Second Great Hop War by a heroic Alchemist of the past, the Hop-Breaker has been Unleashed. Wielding the Black Book and its dark incantations, the Hop Dude's new Nemesis and his evil minions have done the unthinkable--covering the world again in a shroud of black and threatening to overthrow the Full Hop Alchemist and our band of Hop Dude Heroes. The act of sacrifice to eliminate the Hop-Breaker was folly - well known by members of the High Hop Council, a few of whom also have intimate knowledge of the raw power within the Black Book's script. They were not however aware of just how powerful The Hop-Breaker Unleashed would be.
Unleashed is the OG Hop-Breaker aged 8 months in ex-bourbon ex-Shizuoka Distillery whisky casks, blended and adjuncted like nobody's business. Vanilla-sprayed toasted Sri Lanka coconut flakes, Papua New Guinea vanilla beans and Idea Machine coffee beans from our friends at Modern Times Coffee align with roasted notes throughout for a sensory pleasure ride unlike anything the Hop Dude has experienced before. The Dark Master is back - time to get this party started.