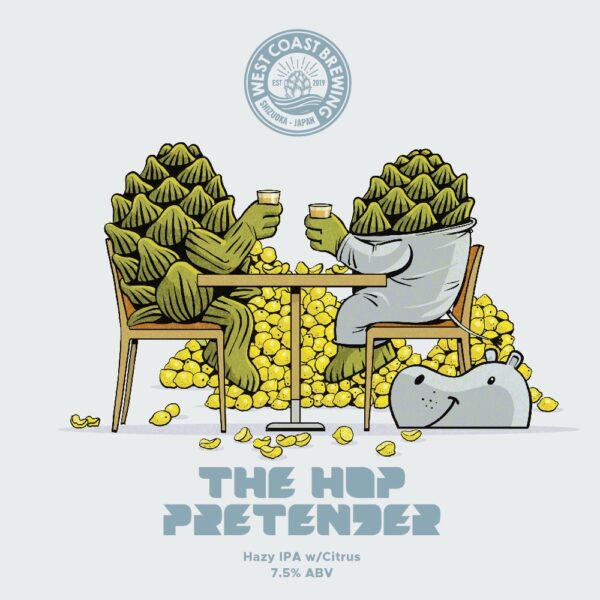 The Hop Pretender
Hazy IPA / 7.5% ABV
w/Citrus. Dry Hopped w/Cascade, Cashmere, Citra & Lemon Drop
NEW VALLEY 2nd Anniversary.
ねえ、Hop Dude。こっちむいて?
この谷での生活から早2年を迎えた『NEW VALLEY』へ向けて。WCBが贈る、コラボレーションビールが完成!
お祝いの気持ちは、交わし続ける杯の数で決まる?!彼らに飲み干し、飲み尽くされ、積み上げられていくレモンの山々。今までのこともこれからのことも、何でも打ち明けられるお祝いを開くため、Hop Dudeが夜な夜な仕込んだ至極の一杯。
レモンピールと日向夏を投入し、爽やかな果皮のアロマに包まれる。濃厚なグレープフルーツや日向夏、レモンにオレンジのような風味の奥底で、ほのかに感じる桃を連想する甘い印象。後口で余韻として残る、柑橘皮のほろ苦感が良いバランス。
『ひとりで飲むと3本だけど、
ふたりで飲んだら7本飲める。それがビール。』
…と、かの詩人が言ったとか言ってないとか。
とっておきの機会だからこそ、ゆっくり語り合える大切な日。だから今宵は贅沢に、今までとこれからの未来に乾杯しよ。
Hop Dudes getting tired of being Hop Dudes? Nah. Hop Dudes into a bit of Cosplay? Hmm…it is Japan, after all. Some Dudes just have their thing? The real question is are we ever really fooled when the can says "Hazy IPA" on it? And if it also says "with citrus" should we expect nothing less than a massive burst of grapefruit, lemon and summer orange? The Hop Pretender is a special Hazy IPA we cooked up for our friends at New Valley for their 2nd Anniversary Bash, loaded with lupulin the likes of NZ Cascade, Cashmere and Lemondrop, and featuring subtle volume slider nudges to the citrus end with fresh lemon and Japanese summer orange peel additions. The result is a super clean citrus rush, pillowy cashmere foam love and a touch of peel-esque bitterness on the finish, that result in a well balanced end of May Hazy…Or, it might be clear? You'll have to have a pint and let us know?