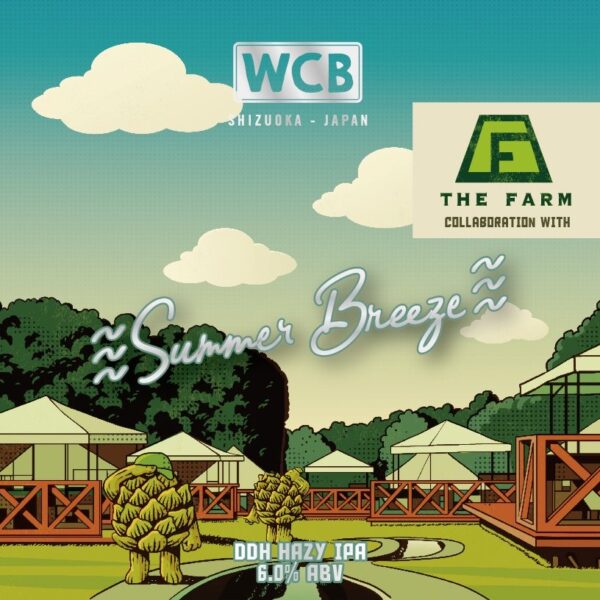 Summer Breeze
DDH Hazy IPA / 6.0% ABV
w/Citra, El Dorado, Mosaic CRYO & Motueka
WCB × THE FARM
Collaboration!
千葉県香取市・グランピングが楽しめる、農園リゾート複合施設『THE FARM』とのコラボレーションビール。
真夏を駆け抜ける、心地のよい風を感じて。たまには海辺を離れて、緑輝く大自然へいざ。Hop Dudeの旅が始まる。
夏みかんや八朔のフレッシュな印象に、微かに寄りそう白桃感。濃厚な黄色い和柑橘から、徐々に桃を連想させる風味には、柑橘皮のような渋みもあり、後口のほろ苦さで〆はしっかりと。
夏の粒子とビールを、口一杯に含んでひと休み。青空を見上げて、メローな熱風を全身に感じたら、もう出来上がり。まだ始まっていないと思ったら大間違い。儚い夏は一瞬で過ぎていっちゃうよ~。
So this glamping thing. Pretty fun stuff. Escape that concrete jungle (jail?) and get out into the WILD amirite. But seriously it's great times with fam and friends and furry loved ones, and zomg all of that open space? Let's not forget we are in Japan, where you have to pay to go to a park with grass, yeah. You gotta take your kid 45 min out of the city just to show them that vegetation actually exists in bulk in the real world. Our daily lives are literally smothered in shades of asphalt, so long story short we gotta pay hard-earned cash money to see the green stuff. And if you are making the trek - The Farm is absolutely awesome (we are hardcore biased btw). It's so good that we had to make a beer to match the experience. "Summer Breeze" is the final component to unlocking an unforgettable time in the great outdoors, the perfect match for your pre- or post-BBQ festivities, and the right beer to wind you down when the cool dusk finally arrives on another inferno-esque Japanese midsummer night. Clocking in at 6.0% ABV smooth and silky bursting with tropical fruit, mango, pineapple and citrus notes, Summer Breeze is telling you to get in your car, get to Chiba and let the glamping begin boyz.