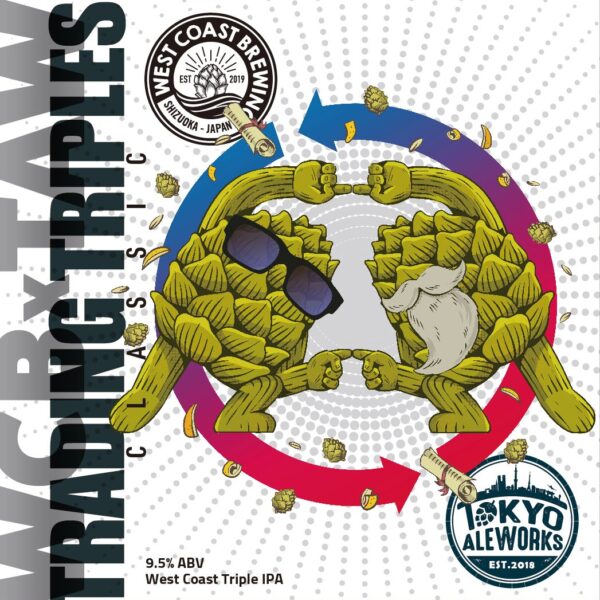 Trading Triples Classic
West Coast Style Triple IPA / 9.5% ABV
WCB x Tokyo Alewaorks Recipe Trade Collabpration!
Trading Triples: Classic!
『美味しく、面白く、楽しく』をコンセプトにWCB×TAWのタッグが復活! 今回はリモートでレシピのトレードコラボレーション。コラボのスタイルは、やっぱりトリプルIPA😎 WCBが得意とするヘイジーIPAとTAWが得意とするクリアーなIPAがクロスオーバー。
Trading Triples〜TAWのクリアーなIPAに敬意を表して〜
ClassicはWest Coast Style IIIPAのレシピに強烈なTAWのエッセンスが加わりました。松やみかんの圧倒的なアロマに、香ばしいキャラメルのフレーバー、そしてABV 9.5%のパンチ力をご堪能あれ 。
未知の可能性に思いを馳せて、WCB×TAWのコラボはどこまでも続いて行く!
Two Hop Dudes are better than one!
The WCB x TAW tag team returns to action with Trading Triples, our high powered (and decidedly high ABV) recipe trade collab. The Hop Dudes at WCB got their hot hands on Scrolls of Ultimate Power, the contents of which were Classic classified (hint: a west coast style Triple IPA recipe with a decidedly TAW twist - aka epix). In return the Alchemist sent ravens (mostly FB messenger style) to communicate one of his most powerful Hazy Triple concoctions - the result, a remote dual threat Triple IPA bonanza, replete with oodles of hops and showcasing what each brewery does best. "Classic" has a huge pine and tangerine nose, sweet caramel full body and that orange candy twist to take you all the way to 9.5% (bliss baby).