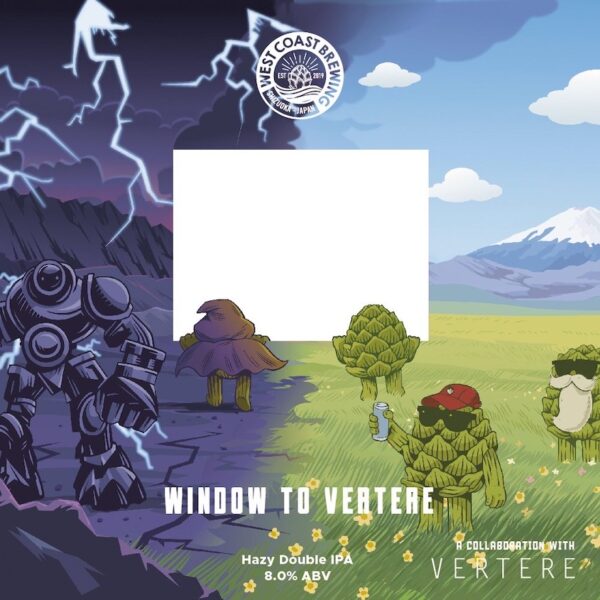 Window to VERTERE 2021
Hazy Double IPA / 8.0% ABV
w/Motueka 2021 & Nelson Sauvin 2021
WCB × VERTERE Collaboration!
海から山へ。山から海へ。
Hop Dudeたちが覗く、VERTEREとWCBを繋ぐ1つの窓。
1点の光に導かれるように繋がりは生まれ、
その光は線となり、螺旋はやがて大きな渦になる。
今回のコラボでは、
自然あふれる両ブルワリーの地で造り上げたビールが完成!
同様のホップを使用しながらも、配合はそれぞれにアレンジし、モルトと酵母は同じものを。
絶妙に変化を付けたレシピの結果は…飲み比べで答え合わせ。
フローラル感にドライマンゴー、ライチやレモンのようなアロマ。完熟メロンからパイナップルにグレープフルーツと、トロピカルから柑橘の風味へ。優しい口当たりと、ラクトースのほのかな甘みによって、さまざまなフルーツを次から次へと連想させる、味の奥行きの広さ。程よい苦みもアクセントに。
視点を変えて世界を広げる。
志を同じく、勢いよく、時にスローペースに
WCBと共に駆け抜けるVERTEREとのスペシャルコラボレーション。
あなたは、この窓の先に何が見える?
December be all about inter-dimensional travel? Mystery monoliths? We're talking about Wonders of the World here, man. Collabbbbing and exchanging ideas and thoughts to nab those sought-after nuggets of knowledge is what makes brewing awesome--and after over a year of planning and pandemic-stuff getting in the way (fair enough), here we finally are. Window to VERTERE is just that - a glimpse from our world into theirs. A magical portal but for a fleeting moment, to put two and two together (aka drink and shittalk up a storm), right brain-flex and make something exciting, stimulating and unique. An opportunity to break out of our respective shells and stir the proverbial pot. And yeah we put a ton of hops in there btw. The main draw (besides it being a massive tropical 8% hazy bomb) is the dynamite mixture of Verdant and US-04 yeast, with some grain bill tweaks for additional attitude. It might be cold outside, but we are gonna leave this window open for a while--the view is mighty good Hop Dudes.