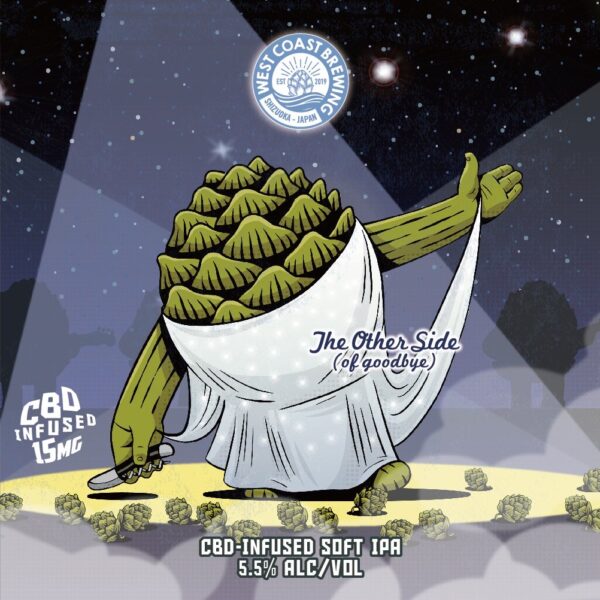 The Other Side (of goodbye)
CBD-Infused Soft IPA / 5.5% ABV
w/Cashmere, Strata & Sultana
WCB × NEW VALLEY Collaboration!
It's time to take a bow - and lead the life I want to lead.
進むべき人生の選択肢は、いくつもあっていい。
誇るべき今の生き方も、新たな道も、切り拓けるのは自分だけ。
数あるスターの中から選ばれしHop Dude。
スポットライトの中には、今夜のご褒美的盛大なお楽しみが。
大切に、少しずつ楽しんできたのに……ホントにこれが最後の1本なの?
パイナップルや日向夏の果肉を連想させる甘い香りとフレーバーに、白ぶどうのような印象も。ライトボディーでミディアムカーボネーション、苦みは少なくドリンカブル。
これまでの輝かしい想い出は宝箱へ。
さよならのかわりに、ここで一杯乾杯しましょう。
【1缶(500mL)あたり、CBDの含有量は15mgです】
▼CBDについて詳しくはこちら
https://www.westcoastbrewing.jp/news/cbd/
Yes, we did it. We did Hop Dude Momoe art. Legends becoming immortal amirite? The Other Side is a collab with our Hop Dude friends at New Valley in Tokyo to commemmorate the retirement of one of their favorite Hop Dudes. Retirements kinda sad yeah? Nah. Celebrate the good times and kickstart the new, "roast and toast" we say. The beer? a CBD-infused 5.5% easy-drinking Soft IPA (had to do it like the COOL kids this time), with just enough sweetness and just the right touch of West Coast crispy-ness on the finish to make this one of your absolute go-to brews for the month of December. What's on The Other Side of 4 of 5 pints of this one? Hopefully a fantastic fresh start and a ton of good times. Enjoy responsibly friends.